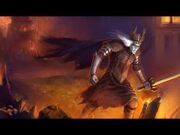 Morgomir (též Morogmir) je fiktivní postava spadající do fantasy příběhů J. R. R. Tolkiena, údajně jeden z Nazgûlů – v pořadí čtvrtý z hlavních devíti, kapitán černých Dúnadanů (Númenorejců) sloužící černokněžnému králi z Angmaru, držitel pevnosti Carn Dûm. Kdysi zřejmě býval králem lidí. Po porážce vojsk Angmaru byl Morgomir poražen Elrondem a Glorfindelem. Zmínky o postavě pocházejí zřejmě jen z počítačových her jako je The Lord of the Rings: The Battle for Middle-earth 2 Rise of the Witch King a informace o ní nejsou knižně ani filmově potvrzeny.
Community content is available under
CC-BY-SA
unless otherwise noted.